Check Yourself- 4 Mindsets to Adapt for a Successful Fitness Journey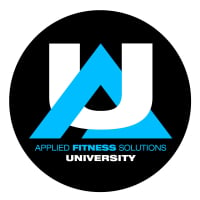 AFS Education
Administrator, Moderator, Practitioner
admin
Kids, vacations, family emergencies, work – there are an infinite number of things that get in the way of adhering to the exercise and nutrition program necessary to achieve your goals. Indeed, you can feel like you're on a rollercoaster – working out and eating great for a week, and then not exercising and eating terrible for a week. This is an all-too-common cycle for most recreational exercisers and those who struggle with managing their weight effectively. The burning question is: "how can I break this cycle of inconsistency that my life creates!?".
The reality is that there never is truly a perfect time to integrate exercise or healthy eating into your life. You are busy now, and you'll be busy next week, next month, and next year; don't kid yourself that next week's going to be easier, because something new will come up next week! Thus, the first step is coming to terms with that reality. Once you do that, try following these four guidelines below.
Step 1: Set Realistic Expectations
What is the ideal exercise frequency – three days, four days, five days per week?
How much fat should I lose in a week?
How long do I have to do this before I reach my goals?
The reality is that there is no perfect answer to any of these questions. Yes, certainly there is physiological data that can provide some answers, but those answers apply in the scientific bubble of a laboratory, not necessarily the real world. The correct answers to all of these questions depend on what's realistic for you and your life and goals.
If you can only exercise three days per week, that's the ideal exercise frequency for achieving YOUR goals. If doing so causes you to only lose one pound per week, and it takes you five months to reach YOUR goals, that's great because it's what YOUR lifestyle allows. You have to realistically define what your lifestyle allows for with respect to exercise and nutrition, and set expectations for yourself accordingly. There is nothing more self-defeating than setting expectations for yourself that you are incapable of achieving.
Step 2: Avoid All-or-None Thinking
Even the best, most realistic plans go wrong from time-to-time. It doesn't mean all is lost or you're a failure, but so often that's the mindset. Ask yourself if any of these thoughts sound familiar: "I missed my Monday and Tuesday workouts, ah, I'll just start again next week," or "Well, I had pizza for lunch so I might as well just forget about dinner and start over tomorrow," or "My, eating was terrible Friday night, I'll just start the diet again on Monday." OK, I think you get the picture, and I would venture to say EVERYONE who is reading this article has made at least one (if not all) of these statements at some point. The guy who wrote it certainly has!
The reality is that there is nothing you have done that you can't start to undo immediately. Two days of missed workouts don't need to be compounded by missing a whole week. One bad meal doesn't have to mean one bad day or – even worse – one bad weekend. The trick here is to be conscious of this thought process and how quickly it creeps in. Once you're conscious of it, there has to be a very clear and resounding focus to get back on track and not throw in the towel for a day, a weekend, a week (or even longer). You almost have to talk yourself down off the ledge initially. Good, positive, self-talk is the key: "OK, I know that wasn't the best choice or decision, but it can stop here. I can start eating healthier now. I can start exercising today – it doesn't have to wait, because there's no reason to wait." Don't underestimate the power of statements like this. You don't have to use this script word-for-word, but making a resolution (internally) of acknowledgment and action is critical to defeating all-or-none thinking.
Step 3: Disconnect Exercise & Eating
This kind of goes along with all-or-none thinking. As much as people associate the need for diet and exercise to go together, they are, in fact, separate aspects of your program. So often, people eat healthy when they're exercising, but then as the exercise falls off, so does the eating, or vice versa. This is great when you're doing well, but not so great when you're "off track"
As such, it takes a conscious effort to disconnect these two aspects of your program. Don't get me wrong – I'm not saying you shouldn't strive for healthy eating when you're exercising (far from it, in fact). I'm merely suggesting that these two components are not directly connected on a behavioral level. If you can remain mindful of this, and truly disconnect the two during periods of reduced exercise, you will be more successful in maintaining your weight.
Step 4: Something is Better Than Nothing
With healthy eating and exercise, everything counts and nothing is irrelevant. Certainly, there is a dose-response relationship with exercise and nutrition. That is, the more you do, the better you do, the greater the results. But, doing anything is better than doing nothing at all. Research suggests that even one or two bouts of exercise per week is enough to maintain fitness. And, a healthy breakfast and lunch can result in good energy throughout the day, and maybe even some fat reduction, regardless of what comprises dinner.
In fact, research suggests that the greatest health benefits are derived from going from "very out of shape" to "just a little out of shape" rather than going from "in shape" to "in amazing shape". Thus, you can actually greatly increase your health and wellness just by doing a little bit of strenuous exercise or eating just a little better. After that, you do start to see some diminishing returns.
Take Home Message
The take-home message here is that all is not lost if you can't exercise four days per week and eat "clean" all the time. Every little positive thing you do makes a difference, regardless of how small. Might this mean it will take you longer to achieve your goal? Certainly, but at least you're moving in the right direction, rather than bouncing up and down on a yo-yo like so many people do.
As this article has highlighted, at the end of the day, a fit and healthy lifestyle is all about mindset and mentality. If you have the mindset that you are going to be perfect all the time, you are doomed to fail. If you think you have to eat a certain way and exercise at a certain volume all the time or you won't reach your goals, then you're destined to be unsuccessful. No one is perfect, and everyone falls off the wagon now and again. The people who are successful at maintaining and improving their fitness and body composition realize this. They have a realistic mentality of "do the best you can at all points in time," and their reward is lifelong fitness and weight management. If you implement the four steps I have suggested above, this can be you too!
Tagged: